In a recent interview with BTIndia on August 26, Ashish Chauhan, the Managing Director and Chief Executive Officer of the National Stock Exchange, emphasized the exceptional and unparalleled investing style of the late Rakesh Jhunjhunwala, often hailed as India's Warren Buffett. Chauhan, addressing a gathering of 125 budding investors, cautioned against attempting to replicate Jhunjhunwala's unique approach, highlighting its rarity.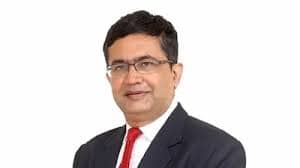 Chauhan acknowledged that since Jhunjhunwala's passing, there has been no one quite like him in the investment world. Jhunjhunwala, known not only as a trader but also as a chartered accountant and film producer, left an indelible mark on India's financial landscape.
Chauhan's advice to the audience was clear: for those expecting growth in the Indian markets, long-term commitment is key. Attempting to time the market by buying at its lowest point and selling at its peak, he stressed, is a challenging feat and not the path to sustainable wealth creation. He cautioned against the allure of short-term trading and the misconception of becoming a billionaire overnight in the stock market.
Chauhan debunked the notion of anyone possessing divine knowledge in the market and recommended long-term trading for newcomers who may not be well-versed in derivatives, intraday trading, or futures. This perspective aligns with a study by the Securities and Exchange Board of India (SEBI) released in January, which revealed that the majority of equity F&O traders incur losses, particularly among men under 40.
The crux of Chauhan's message was a call for realistic expectations from the market: wealth creation without undue risk. For those lacking extensive market knowledge, he advised considering mutual funds or portfolio managers rather than relying on unreliable sources for trading decisions.
It's worth noting that the Indian market has witnessed a significant influx of retail investors during the COVID-19 lockdown period, with an astounding 200 crore transactions occurring on exchanges every second today. This surge in retail participation underscores the importance of informed and prudent investment strategies, emphasizing Chauhan's message of long-term commitment for sustainable wealth growth.